MAY 13th, 2017
will be Open Firehouse Day – PANCAKE BREAKFAST, Venice Fire Station 63.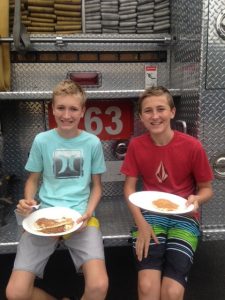 This was my brother and I last year enjoying the morning pancakes at the Fire Station.
I can't believe it has been a year already and
tomorrow
it is Pancake Day again but this time
I will actually be working it as a LAFD Cadet
!
That means I get to wake up at
4.45am
and cycle there before
5.30am
🙂
My family will come down later in the morning to eat and see me in action lol.
I am excited to be working it this year.  It is also my brothers 14th birthday
tomorrow, 
so
"Happy Birthday Oliver! "
Update: Here's an image from this year's breakfast.