TOTAL RAISED:   My goal was $3,000 but I collected $4,100 in total! 
My Bike Ride : I MADE IT! 
I finished my 100 mile ride from Los Angeles to Santa Barbara as planned.  I was 12 when I started the ride and ended it on my 13th birthday (a 2 day ride – 50 miles a day) – it was a fun way to celebrate both the ride and becoming a teenager.
I want to say a big thank you to all the people who believed me and supported me – my family, friends, teachers, school principal and of course to all those that got to know me one way or another, whether it was at the Venice Chamber Board Meeting, The Venice Business Expo, Whole Foods BBQ West LA, Oxnard Whole Foods dinner, Santa Barbara Whole Foods cake celebration or the many Fire Stations that I stopped in on the way !
June 21st:
I was sponsored by Whole Foods in West LA.  Katina and her team members all rallied behind what I was doing and planned a BBQ fundraising event a week before I left for the ride.  They served Kabobs and Lemonade and in two hours we had raised nearly $600 – and all the food was gone! Whole Foods was so supportive of what I was doing and Katina, her team and Whole Foods put so much effort in to their plans for me to succeed with the fundraising and I really appreciate everything they did.  When I got them as a sponsor it was one of those times where I really thought WOW – I am so lucky and this is so cool.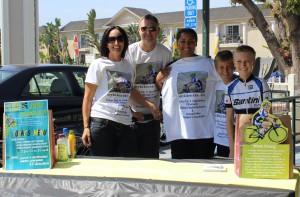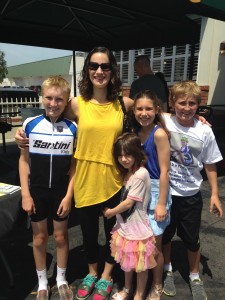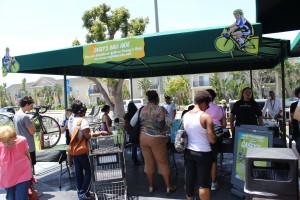 June 27th, 2014
I arrived at Fire Station #62 on Venice and Inglewood at around 7.15am.  They were a fantastic group of supporters and Captain Semenza and his crew made sure I went off with a bang.  The station arranged for an "All Call" in my honor  – that meant an announcement went out through the city of Los Angeles to all the Fire Stations that I was about to begin my ride.  We also took time to pick out the raffle prizes when we were there
(Congratulations to Kathy Kane and to John Baginski on winning great prizes – see my "raffle winners" page on www.mybikeride.net)
We got on the road at about 7.45am and Fire Station #62 gave me a fire escort from their station to the beach where I then continued on the bike path to Temescal Canyon.  After Temescal I had to jump on the PCH – yes, it was busy and yes, I was a little nervous of all the passing trucks blowing me around a little but it went well and the view to the left of the ocean the whole way was great!
My mum and dad switched on and off chycling and driving behind me and I also got sponsored by wrapped by Outlaw Graphix to get the back of the minivan wrapped so when my dad or mum were driving ahead of me people could tell what was going on.  In the car I had my cousin who came from Canada to be with me and also my brother Ollie – they were a little bored as it is a slow journey in a car at a bike rate but they hung in there – so thank you to them too!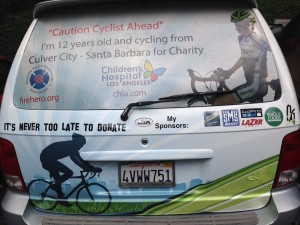 I stopped at Malibu Colony Fire Station #88 and they gave me cold waters and showed us the trucks and as we were taking some pictures they got an emergency call and had to leave fast!  I carried on along the PCH and we then stopped at Fire Station #56 sitting on a hill with a great view of the ocean – lucky!  They gave us all t-shirts and we took more pictures after a tour and a chat.  More PCH all the way to the Port Hueneme exit and then into Oxnard. Oxnard was my half way point and as the Embassy Suites Mandalay Beach – Hotel & Resort in Oxnard were kind enough to sponsor me, Lisa Asdikian was great and set us up along with the staff at the hotel: Nick, Suzanne and the team were so friendly. We had a great room, a pool and a beach to run around on at Sunset (yes, I could still run!).  We were invited by Cindy and her team at Whole Foods, Oxnard to have dinner – and what a greeting I got when I walked in – a lot of applause and cheering! It was such a great surprise! Whole Foods Oxnard may be the biggest Whole Foods I have ever seen!  It had a bar/restaurant in it too!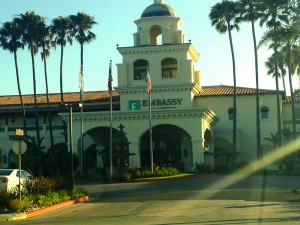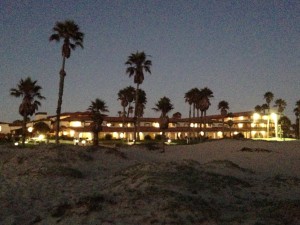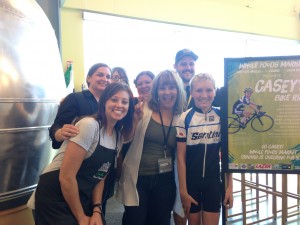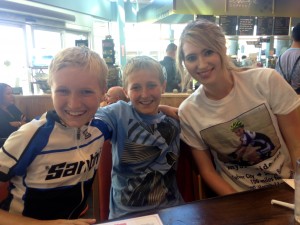 June 28th (My 13th birthday!)
I woke up early, had breakfast and was on the road by 9.00am. I cycled all through Oxnard and then into Ventura (where I fell off of my bike as I tried to jump a curb at short notice and it didn't work out so well for me – a cut finger and a quick band aid later and I cycled on!). I stopped off at a few more Fire stations along the route.  First one was Fire Station #25 in Ventura  – they gave me a t-shirt, lots of stories and were really welcoming and supportive. When we were traveling through the town of Carpinteria my mum ran over a nail that must have been about 4 inches long and popped her back tire right away at Rincon Cycles.  We took an extra hour because we had to cycle/walk back to town to get it fixed – a little time and $45 later we were back on the road.  When I finally made it to Carpinteria we stopped at station #62 Carpinteria-Summerland, where again, they gave me a great tshirt and even $100 donation for my ride!  I can't tell you how amazing, cool and supportive all the fire stations were to me.  It was so cool to be a part of something that everyone was on board with.  I flew down the hill into Santa Barbara and ended up at the Fess Parker (my parents got us a nice room there as it was my 13th birthday and my cousin was in town too!) – I was a lucky guy to end my trip in such great location!  We spent the rest of the day at the pool and hanging out as a family.  It was a good ride and I actually felt good too (my legs were a little sore but not bad!).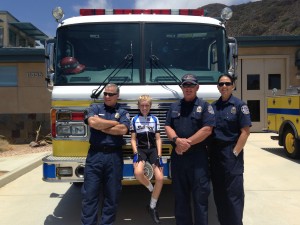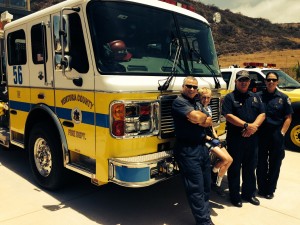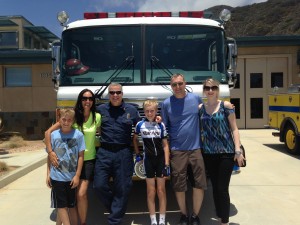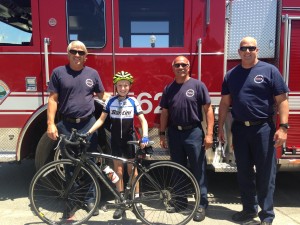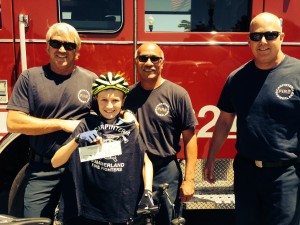 June 29th:
My last moment of this ride was amazing – Whole Foods, Santa Barbara put together a great birthday cake celebration for me – Rae and the team made 6 sheet cakes and served lemonade outside the shop and people stopped by, we talked, told them what I had done and they helped me celebrate by eating cake and more donations even came in too!  We were there about 2 hours and we made an extra $438 for the ride!!!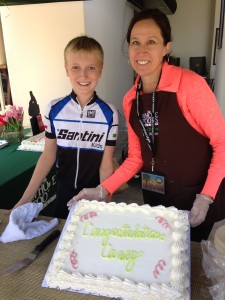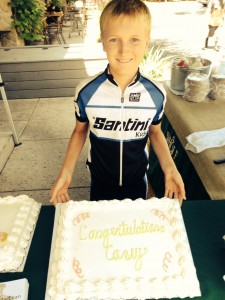 I MADE IT.  It is the end of THIS journey.  A great ride.  A fun time.  I met fantastic people and people who were willing to help me reach my goal in anyway they could.  I appreciate everything I learned along the way – including how to build my own website, being able to be a part of the community, meeting all the fire departments along the way and hearing their stories and really getting a look at what I want to be one day up close!  Warning to all my supporters – I am planning to make this an annual ride and a little longer each year!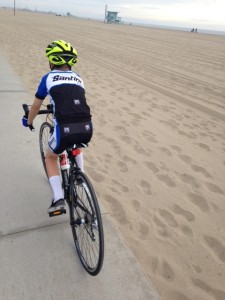 SPONSORS:  From supplying me with a bike, a helmet, prizes for the raffle, fundraising events, wrapping the minivan with cool graphics on short notice and a camera to record my journey and a cool cycling outfit – I would like to thank my amazing sponsors:
WHOLE FOODS (West LA, Oxnard and Santa Barbara)