TOTAL RAISED: My Goal was $5,000 but I collected $6,015 in total! MY BIKE RIDE 2015!
I finished my 130 mile bike ride from Venice, CA to LA Jolla, CA! I want to start my update with a massive THANK YOU to all the people who supported and believed in me. From family, to friends – old ones and new ones I made to all my sponsors and everything they did to help me accomplish my goals. *All sponsors are listed at the end. THE RIDE: I started the ride on June 27th. I arrived with my family at Fire Station 62 on Venice and Inglewood. Captain Semenza was on duty and he and the B crew had already been called out a few times that night and were on a call when we arrived. BUT, even though you could see they were all tired, they took the time to talk with me, take photos, do the raffle and even give me an escort down Venice Blvd! That was very cool. I left them near the beach and headed along to Station 110 just up the street in Marina del Rey. We got some more great shots and I also got to meet up with my sponsor at Beyond Meat – Brian and he cycled with me to Redondo Beach (he had already cycled from there to meet me in the Marina!).
Brian @ Beyond Meat ended his ride at Station 1, Redondo Beach after we had a quick snack and took photos. When we arrived one of the trucks were out on a call and then when we were eating snacks the other one got called out so we had to rush out of the station to let them get to work! The rest of the ride on the first day was done with my parents taking turns behind me (on the Stromer ST1 electric Bike!) and my brother shouting "go faster Casey" from the car with our dog Juneau 🙂
As a family we didn't rush too much and we made sure to stop at the fire stations along the route. Harbor City Station 85 was the next one we stopped at they were great and even made an ALL CALL announcement about me doing the ride (all fire stations in LA heard it!). That was pretty cool! After that we headed along the LA River, passing by Long Beach and on to Huntington Beach. We stopped for a quick grilled cheese sandwich (with fries of course!). We made it to Huntington and had a good talk with the guys there @ Warner Station 7! Newport Beach Fire Dept came next. It was good to have a stop there and chat to the guys. They told me how bad the cyclists have it in the streets around there as there is no bike lane and the roads are kind of tight with all the traffic. So, I was warned and made sure to watch myself as we headed on. I was also welcomed back there whenever I wanted to stop by if I want to talk to them about any advice I may need in the future when I am applying to be a fire fighter!! The last stretch heading to Laguna Beach seemed long but the views were awesome!
We checked in to the Renaissance Clubsport Aliso Viejo Laguna Beach Hotel (courtesy of Patrick @ Whole Foods). We didn't spend too long in the room, just checked in and walked back out to meet Patrick and some of the team members at the Whole Foods in Laguna Niguel. What a welcome we got. There were halfway point posters they had made for me and I met the staff who were excited to meet me and even got to meet a girl called Casey who works there! We sat on the patio, there was live music and we even got to bring our dog Juneau! I was happy to sit and chat with Patrick and Jeff of Whole Foods and we ate, laughed and talked about the day ahead of us!
The next day (June 28th – my 14th birthday!). We started with breakfast at Whole Foods Market, Laguna Niguel and headed out by 8am. We had Patrick Bradley, the Regional President of Whole Foods along with some WF team members, Jeff, Rod (Rodrigo) and Danny. I knew I was cycling with the big dogs and better try and keep up! I rode hard all day. Danny and Rod were ahead of the pack most of the time and Jeff and Patrick stayed a little behind with me for the entire journey (thanks!). We only stopped at 2 fire stations on our last day. We visited San Clemente Fire Station # 60 where we got a water break and I got to sit in the engine – that was until they got a call and had to rush out of there! Our last stop was Fire Station #2 in Oceanside. It was a smaller fire house but had one of the coolest classic fire trucks inside I have ever seen! After a quick pit stop we hit the road again. We coasted – along the coast! The ocean was on the right most of the way and was a great sight to take my mind off of my tired legs 🙂 A fast stop by to Whole Foods Market, Encinitas and then to the last leg of the ride – which included the steep hill up Torrey Pines. Strava said I did that hill in 21 minutes, it felt like forever! We made it to the top and then a few more miles till I reached the end of my journey at Whole Foods Market in La Jolla.
A wonderful welcome by everyone at the store, a birthday cake, birthday banners, a bbq and a sit down and a chat with everyone about the day. I couldn't have been happier about the whole experience I had over the past two days! Patrick said he is on for the ride again next year, I just have to decide where it is going to be! When I ended my ride Whole Foods Market, La Jolla put on a great feast for me and the other riders and my family and also a BBQ for anyone who wanted to donate something and at the end of the day that raised a nice sum of $160! I MADE IT.
Events that people held to support My Bike Ride: I had a few events to help me raise money for the cause. Elizabeth Rossi (a friend and neighbor) gave two yoga classes on the beach to help me raise money. The first class it was so windy and the sand was blowing too hard so we did it in the park but people still came and it was a lot of fun. The second event was a great time on the beach at sunset. In total we raised about $300!
Whole Foods Market, West LA. Victoria had just been moved to the West LA store where she got thrown in to helping me fundraise! She really started off running with fundraising ideas for my bike ride. We started with a BBQ at the Whole Foods West LA location. Beyond Meat supplied "Beast Burgers" and Brian Kincaid helped man the grill and keep everyone happy. We also had Kabobs and Invo Coconut waters were refreshing people. and we raised $700!
Whole Foods also took some treats to Mar Vista Park Sumer Movie Nights event where people were coming to watch "The Sandlot" and thank you to Mar Vista Recreation for allowing us to be a part of a great community event. We made nearly $200 that night.
Yes, Whole Foods also did a pickle making event – 20 people came and I spoke in front of them. This really didn't make much but sometimes it's not all about the money! (no photos of this one sorry!)
 It is the end of THIS Bike Ride – but this serves as a WARNING to all of those included in it ! I am doing it all again next year – a new destination with hopefully the same supporters! I met so many great people on this ride. I went above and beyond my goal of fundraising thanks to everyone who took time out of their day to support me in anyway that they could and that is really appreciated!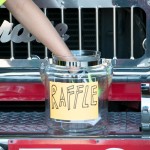 SPONSORS: From the Whole Foods Regional President and the team members that actually rode the second day of this ride with me, which gave me the want to go faster than I have ever ridden and for the companies below in supplying me with prizes for the raffle, fundraising events, wrapping the minivan with cool graphics and cool cycling outfits.
I would like to thank my amazing sponsors – all sponsor logos can be seen on my sponsor 2015 page.